For the seventh time, the Grand Melee 2023 took place from 13-14 May.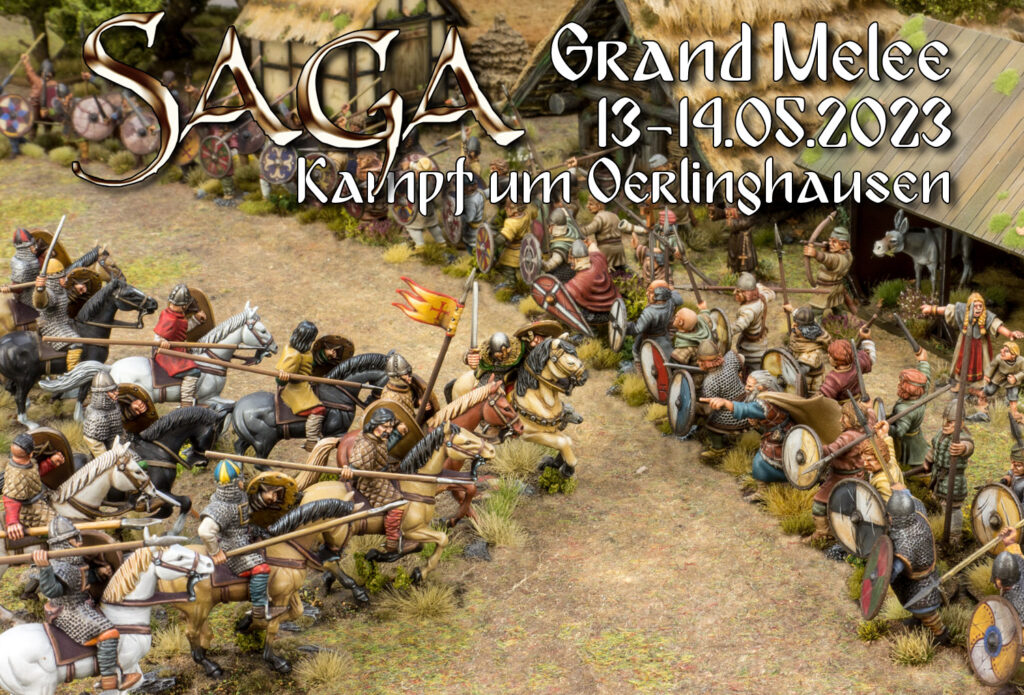 In the run-up to this year's event, we have once again increased our terrain fund and built a total of over 40 new terrain pieces. The picture shows about half of the terrain.
The venue was again the Archaeological Open Air Museum in Oerlinghausen. The weather gods were extremely benevolent to us. Perfect, sunny spring weather.
It is always an experience to play SAGA in a real longhouse. Due to the large number of players (44), half of the games take place in the longhouse and the other half in a separate covered area in the park. The allocation is random, so that everyone usually plays in both places.
Catering was provided by our friends from the larp tavern "Zum gebrochenen Panzer", which included a barbecue on Saturday evening.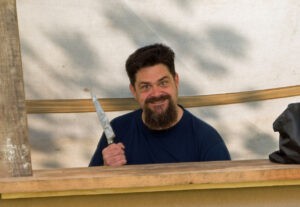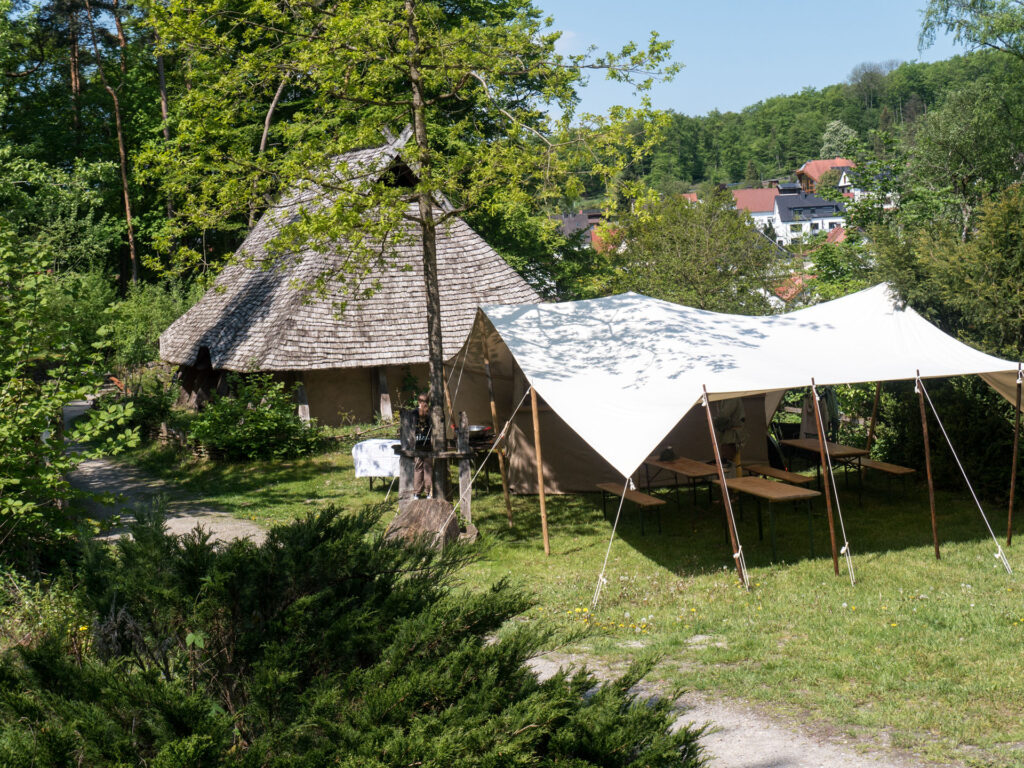 Here is a video tour:
This year we had 44 players (unfortunately there are always some drop-outs).
Each player received a goodie bag at the start, which included a small Grand Melee 2023 trophy as a souvenir, a Vitrix casting frame (thank you Victrix), a Stronghold SAGA scale and some of our 3D printed miniatures.
Admitted eras were Viking, Crusader and Invasion eras and even legendary units and heroes were allowed. Yes, already in the run-up to the tournament some players remarked that the legendary units were not really well balanced. True, but they are also part of SAGA and make up part of the charm. That's why we made a conscious decision to do it this year. Next year, however, we will definitely play without legends.
The complete tournament guide with all rules and scenarios can be found at HERE.
In total, we played 5 scenarios on both days, which were always drawn from a scenario pool of 8 scenarios directly before the next game.
These were:
Battle of the Heroes (Scenario Generator)
Challenges
Wrath of the Warlords
Feasting and Pillaging
Old Feud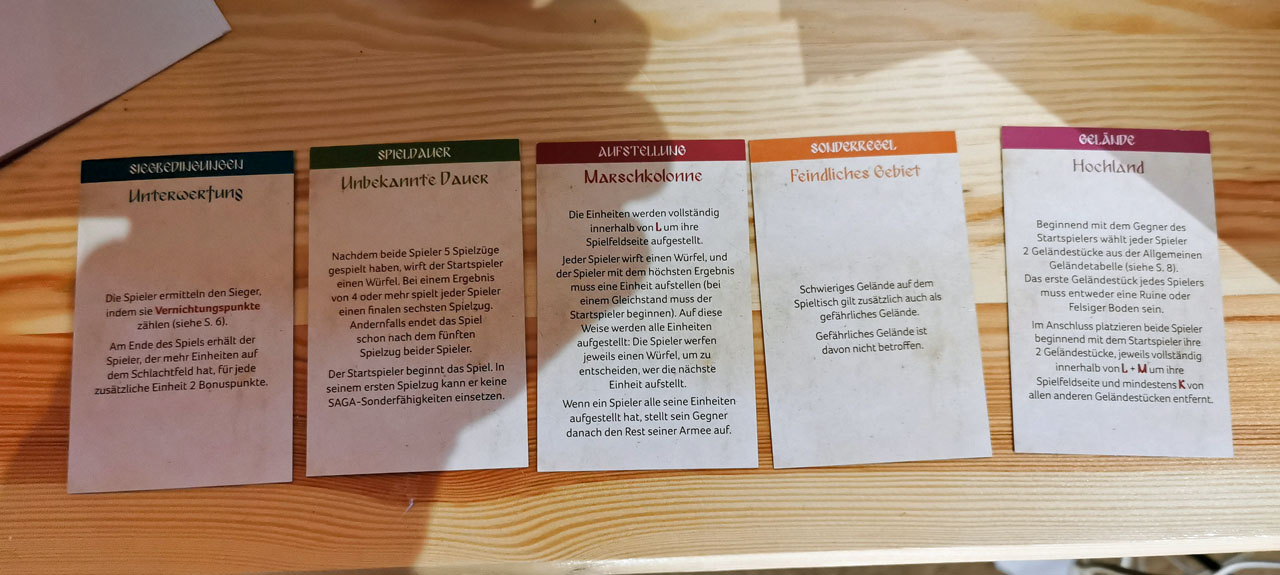 SAGA is definitely a gentleman's game and so, as usual, the game atmosphere was friendly and relaxed.
Clash of the War Beards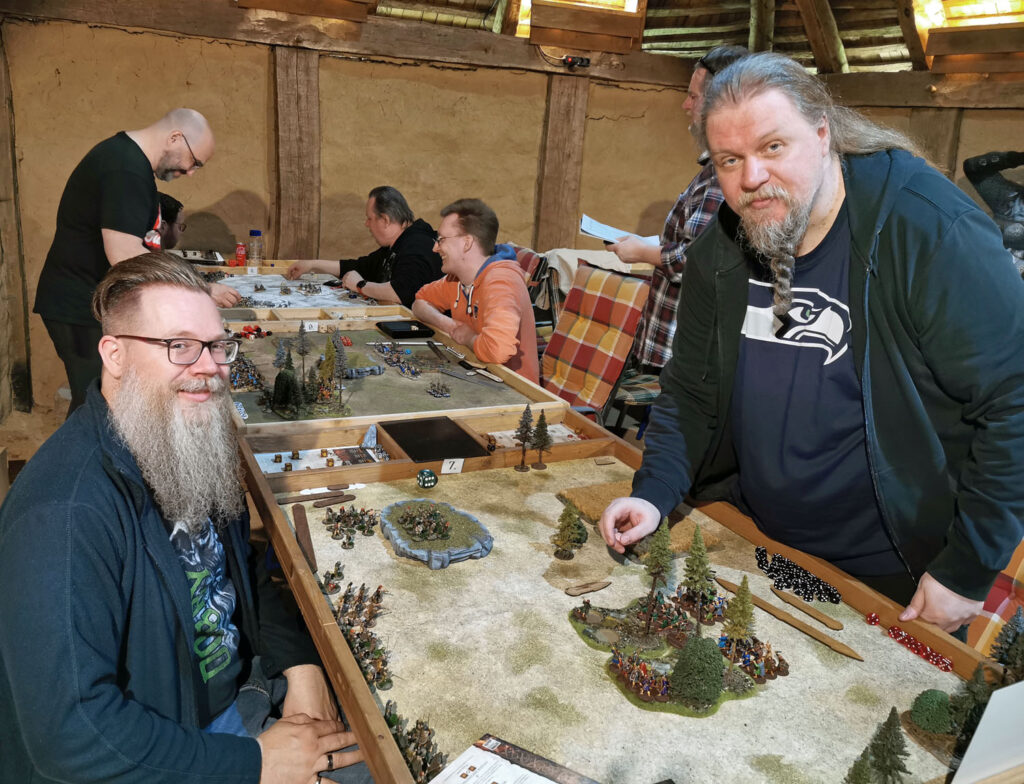 On Saturday evening after the third match, there was a little surprise for each player in the form of a Grand Melee 2023 beer glass.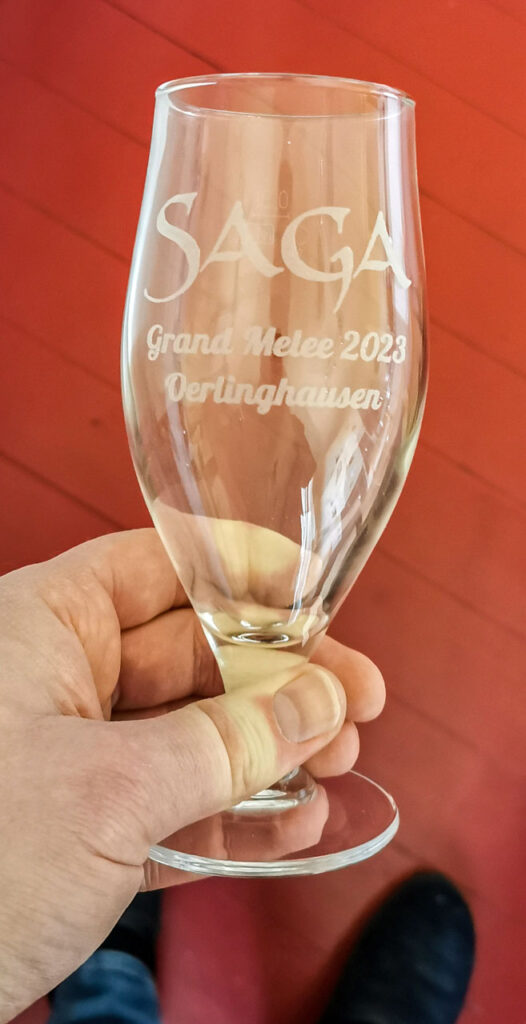 On Sunday afternoon, the time had come. 110 games of SAGA had been played and the winners of this year's Grand Melee had been decided.
Congratulations to the winners:
Tournament:
1. Place: Timo Hetzel (Huns)
2. Place: Tim Pasch (Huns)
3. Place: Simon Schüer (Huns)
It looks as if an early errata of Age of Invasions is in order….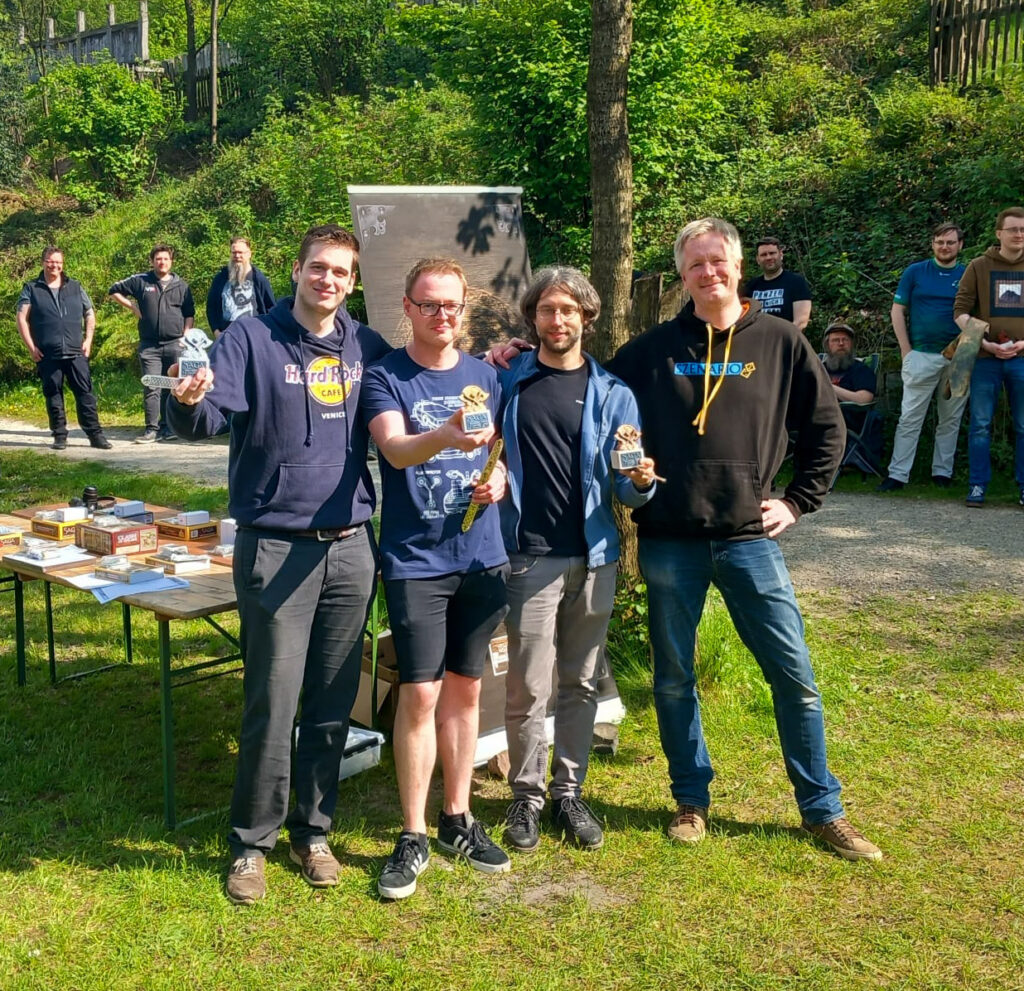 Best Painted:
1. Place: Matthias Beschorner (Late Romans)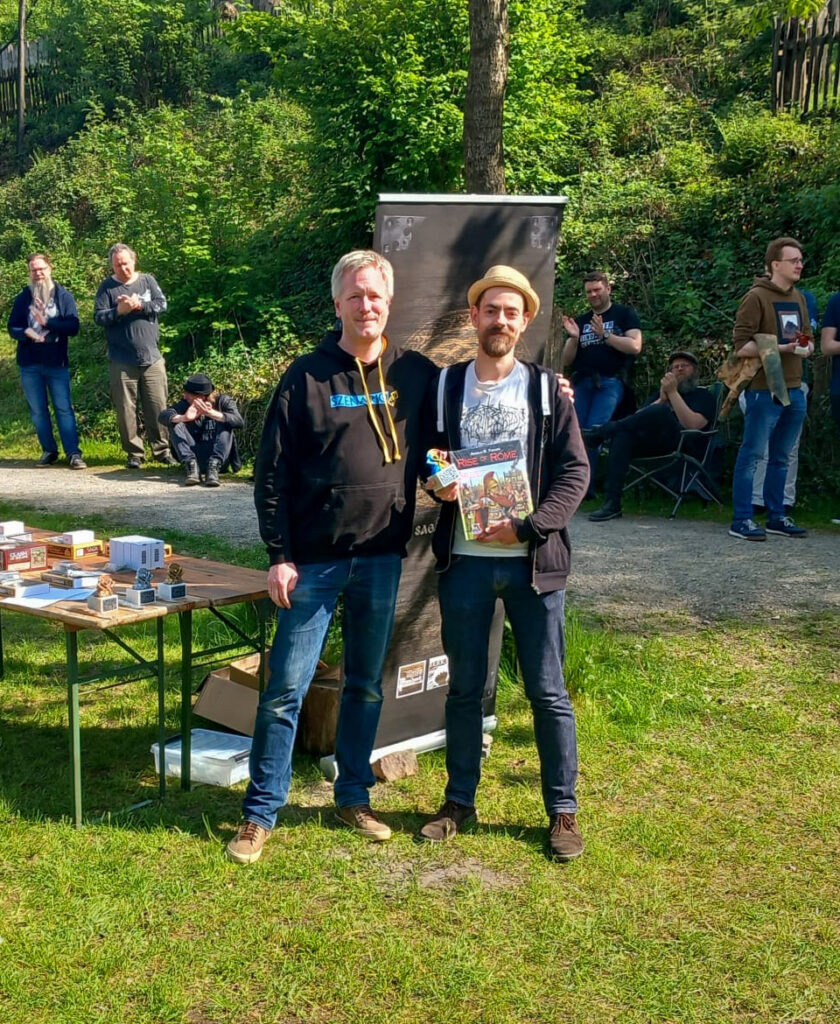 2. Place: Hamza Licina (Saracens)
3. Place: Bastian van Lier (Milites Christi)
There were many beautiful armies. Here you can find a selection:
Berserker of the year:
Gerrit Backes (Norse Gaels)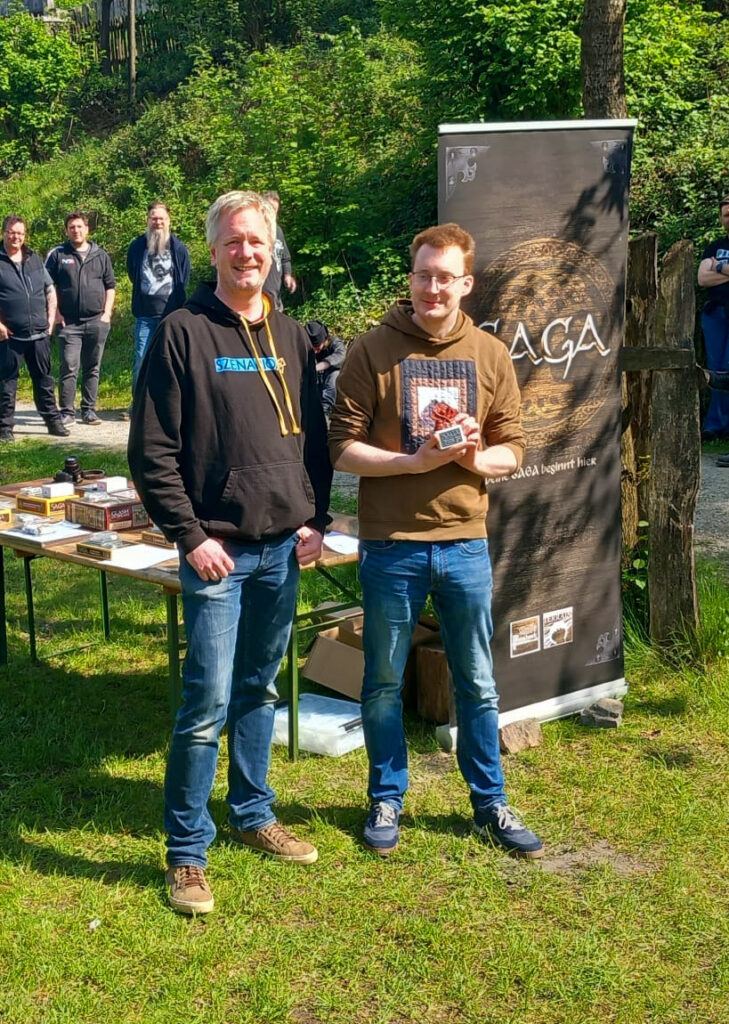 This special prize is about slaying as many enemy warlords as possible (legendary ones count double).
A huge thanks also goes to our sponsors (Victrix, Gripping Beast, Sarissa and PWork Wargames) who were responsible for the prizes alongside us.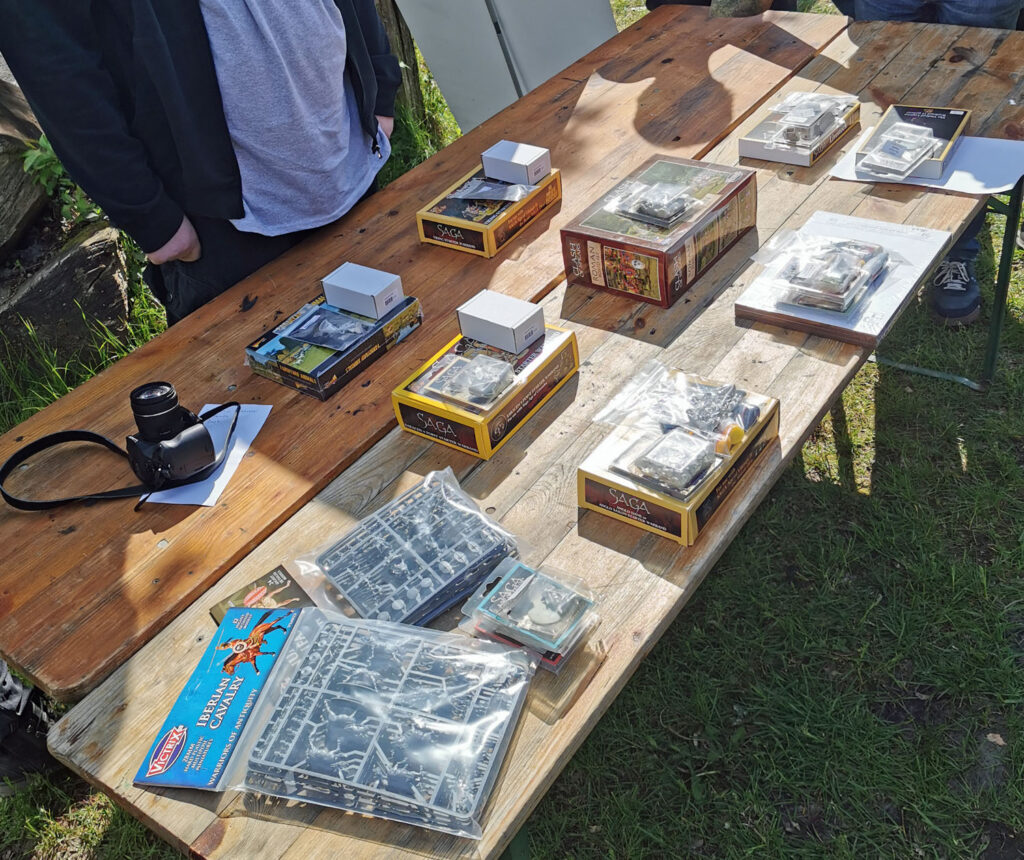 And so the Grand Melee is behind us again. It was a feast.
Thanks to all the players, helpers (especially Christian Sprenger), the Larp Tavern, the Open Air Museum, the sponsors and last but not least my family who had to endure a lot of overtime.
See you next year!!!
MIrco