SAGA World Cup 2023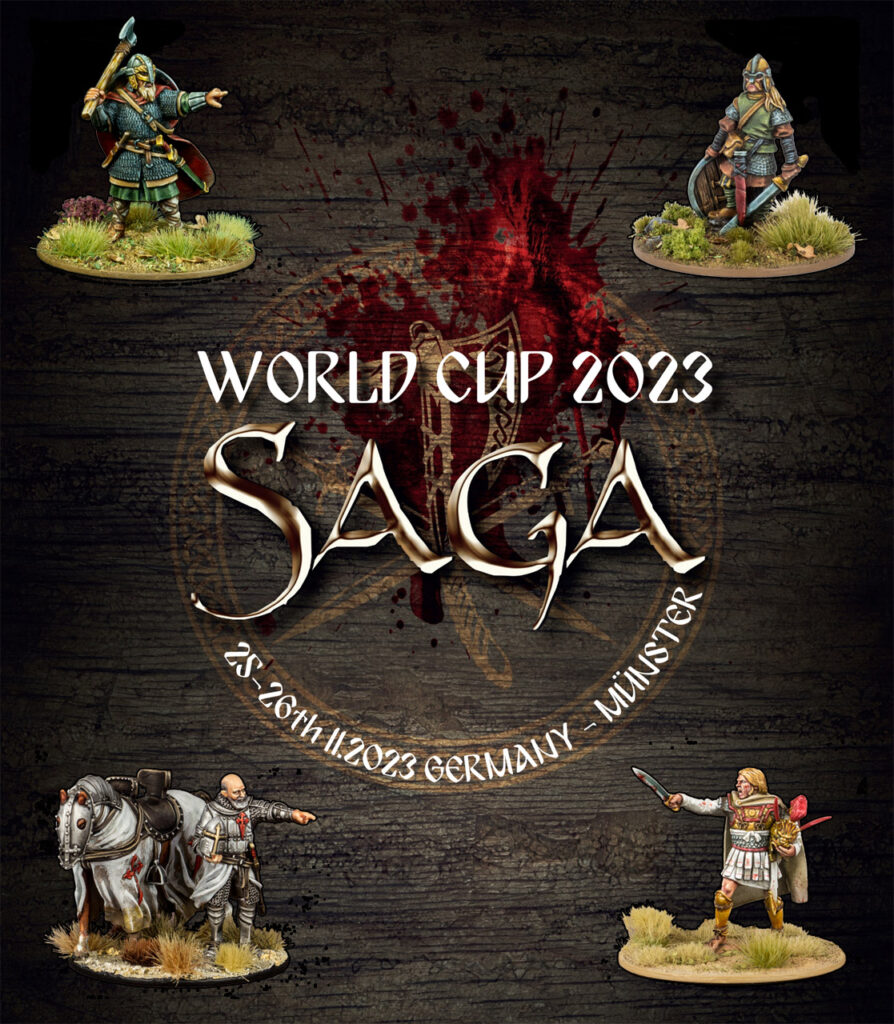 The tickets are available HERE and the T3 registration started (see below)
Date: 25-26 November 2023.
Venue:
La Vie
Dieckmannstr. 127
48161 Münster
Germany
Description:
After 4 years, the second SAGA World Cup will take place in November 2023 in the beautiful city of Münster (Germany).
It is a team tournament where one team of 4 players per nation will compete against another team in 5 rounds each.
We have room for a total of 16 teams (64 players).
The ticket is valid for the entire team of 4 players and includes entry to the tournament on both days.
Until 30 June 2023, there will only be one entry per nation, as we want to have as international a field of participants as possible. After 30 June, we will release the remaining starting places for additional teams from one nation (maximum 3 in total).
Important: Please indicate which nation the ticket is for in the "comments" field when you check out. We reserve the right to withdraw tickets in individual cases.
A team must consist of 4 players from one nation. The only exception is if a team cannot find a fourth player. In this case, a maximum of 1 mercenary of another nationality may be added to the team.
Should one or more players for a team drop out at short notice, we will provide a number of substitutes so that the team can play.
Discord: For further communication we will also provide a SAGA World Cup 2023 Discord Channel. Info will follow.
The registration is done via T3 Tournaments:
https://www.tabletopturniere.de/t3_tournament.php?tid=32521
Facts:
Each team has 1 player each with an army from Age of Vikings, Crusades, Invasions & Antiquity (Age of Hannibal or Alexander).
Each round a team plays against a different nation, with players playing within their Age.
6 points per army (half points are allowed).
No legendary units.
Maximum 1 unit of mercenaries per army.
Factions from "Old Friends New Enemies" are not allowed.
Game language is English, i.e. each player uses an English battleboard and all current English FAQ apply.
Scenarios: In each of the 5 tournament rounds there will be a fixed bundle of 4 different scenarios, which will be published in advance. The team captain of the team placed lower in the tournament will determine the first scenario for an "Age", then the other team captain the second and so on.
The terrain will be provided by the organiser. Own terrain is not allowed.
Each team has a fixed pool of terrain (composition will be published in advance) with which they must make do for all 4 pairings.
Starting player/bidding: The starting player is determined as follows. Each player chooses a number between 0-6, face down. The player with the higher number determines the start player and his opponent receives victory points equal to this number, which are included in the calculation of the winner at the end of the game. In the event of a draw, the winner is chosen by dice and his opponent still receives the victory points.
More info will be posted on T3
Catering:
We will offer on-site catering at fair prices on both days.
For Saturday evening we are planning a dinner in a medieval restaurant.
Ticket cancellation:
Due to the considerable planning effort, ticket cancellations can only be made until 30.06.2023.